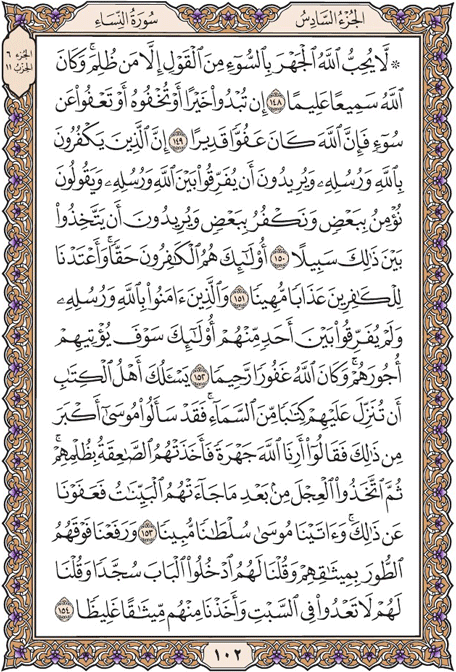 ---
Allah does not like the public mention of evil except by one who has been wronged. And ever is Allah Hearing and Knowing.
If [instead] you show [some] good or conceal it or pardon an offense - indeed, Allah is ever Pardoning and Competent.
Indeed, those who disbelieve in Allah and His messengers and wish to discriminate between Allah and His messengers and say, |We believe in some and disbelieve in others,| and wish to adopt a way in between -
Those are the disbelievers, truly. And We have prepared for the disbelievers a humiliating punishment.
But they who believe in Allah and His messengers and do not discriminate between any of them - to those He is going to give their rewards. And ever is Allah Forgiving and Merciful.
The People of the Scripture ask you to bring down to them a book from the heaven. But they had asked of Moses [even] greater than that and said, |Show us Allah outright,| so the thunderbolt struck them for their wrongdoing. Then they took the calf [for worship] after clear evidences had come to them, and We pardoned that. And We gave Moses a clear authority.
And We raised over them the mount for [refusal of] their covenant; and We said to them, |Enter the gate bowing humbly|, and We said to them, |Do not transgress on the sabbath|, and We took from them a solemn covenant.