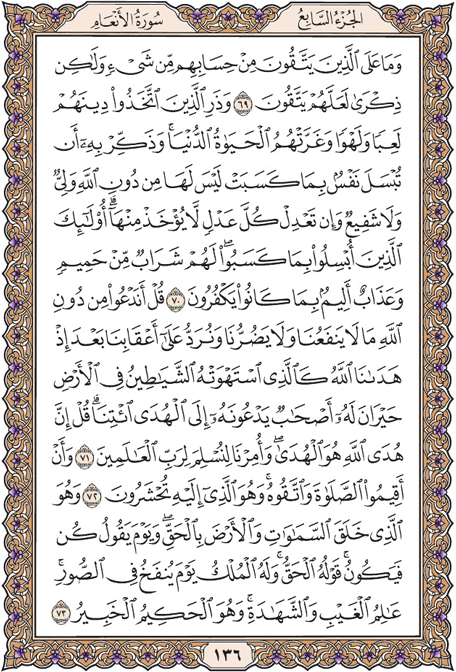 ---
And those who fear Allah are not held accountable for the disbelievers at all, but [only for] a reminder - that perhaps they will fear Him.
And leave those who take their religion as amusement and diversion and whom the worldly life has deluded. But remind with the Qur'an, lest a soul be given up to destruction for what it earned; it will have other than Allah no protector and no intercessor. And if it should offer every compensation, it would not be taken from it. Those are the ones who are given to destruction for what they have earned. For them will be a drink of scalding water and a painful punishment because they used to disbelieve.
Say, |Shall we invoke instead of Allah that which neither benefits us nor harms us and be turned back on our heels after Allah has guided us? [We would then be] like one whom the devils enticed [to wander] upon the earth confused, [while] he has companions inviting him to guidance, [calling], 'Come to us.' | Say, |Indeed, the guidance of Allah is the [only] guidance; and we have been commanded to submit to the Lord of the worlds.
And to establish prayer and fear Him.| And it is He to whom you will be gathered.
And it is He who created the heavens and earth in truth. And the day He says, |Be,| and it is, His word is the truth. And His is the dominion [on] the Day the Horn is blown. [He is] Knower of the unseen and the witnessed; and He is the Wise, the Acquainted.