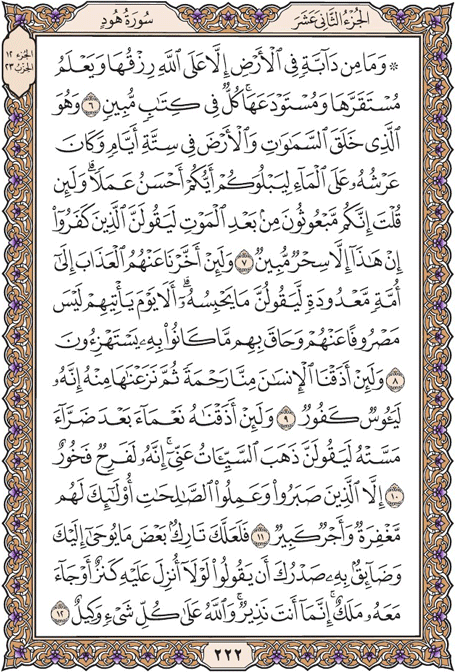 ---
And there is no creature on earth but that upon Allah is its provision, and He knows its place of dwelling and place of storage. All is in a clear register.
And it is He who created the heavens and the earth in six days - and His Throne had been upon water - that He might test you as to which of you is best in deed. But if you say, |Indeed, you are resurrected after death,| those who disbelieve will surely say, |This is not but obvious magic.
And if We hold back from them the punishment for a limited time, they will surely say, |What detains it?| Unquestionably, on the Day it comes to them, it will not be averted from them, and they will be enveloped by what they used to ridicule.
And if We give man a taste of mercy from Us and then We withdraw it from him, indeed, he is despairing and ungrateful.
But if We give him a taste of favor after hardship has touched him, he will surely say, |Bad times have left me.| Indeed, he is exultant and boastful -
Except for those who are patient and do righteous deeds; those will have forgiveness and great reward.
Then would you possibly leave [out] some of what is revealed to you, or is your breast constrained by it because they say, |Why has there not been sent down to him a treasure or come with him an angel?| But you are only a warner. And Allah is Disposer of all things.