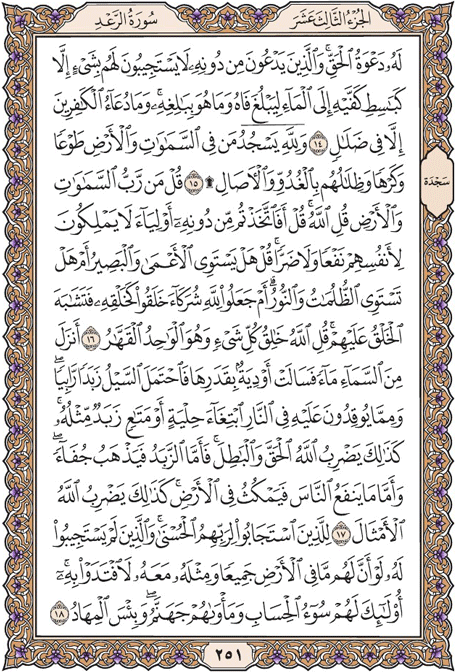 ---
To Him [alone] is the supplication of truth. And those they call upon besides Him do not respond to them with a thing, except as one who stretches his hands toward water [from afar, calling it] to reach his mouth, but it will not reach it [thus]. And the supplication of the disbelievers is not but in error [i.e. futility].
And to Allah prostrates whoever is within the heavens and the earth, willingly or by compulsion, and their shadows [as well] in the mornings and the afternoons.
Say, |Who is Lord of the heavens and earth?| Say, | Allah .| Say, |Have you then taken besides Him allies not possessing [even] for themselves any benefit or any harm?| Say, |Is the blind equivalent to the seeing? Or is darkness equivalent to light? Or have they attributed to Allah partners who created like His creation so that the creation [of each] seemed similar to them?| Say, | Allah is the Creator of all things, and He is the One, the Prevailing.
He sends down from the sky, rain, and valleys flow according to their capacity, and the torrent carries a rising foam. And from that [ore] which they heat in the fire, desiring adornments and utensils, is a foam like it. Thus Allah presents [the example of] truth and falsehood. As for the foam, it vanishes, [being] cast off; but as for that which benefits the people, it remains on the earth. Thus does Allah present examples.
For those who have responded to their Lord is the best [reward], but those who did not respond to Him - if they had all that is in the earth entirely and the like of it with it, they would [attempt to] ransom themselves thereby. Those will have the worst account, and their refuge is Hell, and wretched is the resting place.