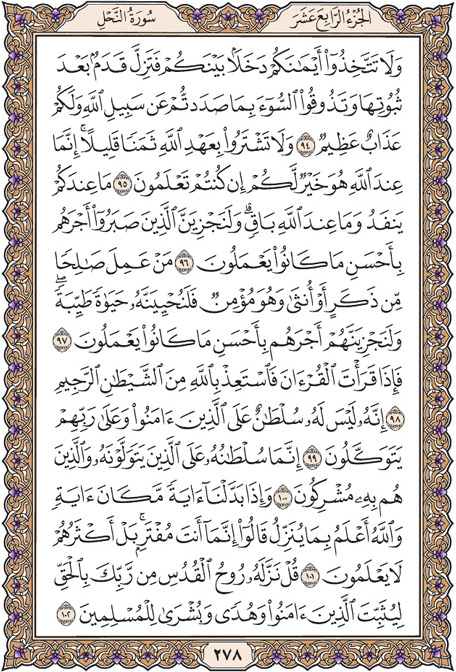 ---
And do not take your oaths as [means of] deceit between you, lest a foot slip after it was [once] firm, and you would taste evil [in this world] for what [people] you diverted from the way of Allah , and you would have [in the Hereafter] a great punishment.
And do not exchange the covenant of Allah for a small price. Indeed, what is with Allah is best for you, if only you could know.
Whatever you have will end, but what Allah has is lasting. And We will surely give those who were patient their reward according to the best of what they used to do.
Whoever does righteousness, whether male or female, while he is a believer - We will surely cause him to live a good life, and We will surely give them their reward [in the Hereafter] according to the best of what they used to do.
So when you recite the Qur'an, [first] seek refuge in Allah from Satan, the expelled [from His mercy].
Indeed, there is for him no authority over those who have believed and rely upon their Lord.
His authority is only over those who take him as an ally and those who through him associate others with Allah .
And when We substitute a verse in place of a verse - and Allah is most knowing of what He sends down - they say, |You, [O Muúammad], are but an inventor [of lies].| But most of them do not know.
Say, [O Muúammad], |The Pure Spirit has brought it down from your Lord in truth to make firm those who believe and as guidance and good tidings to the Muslims.