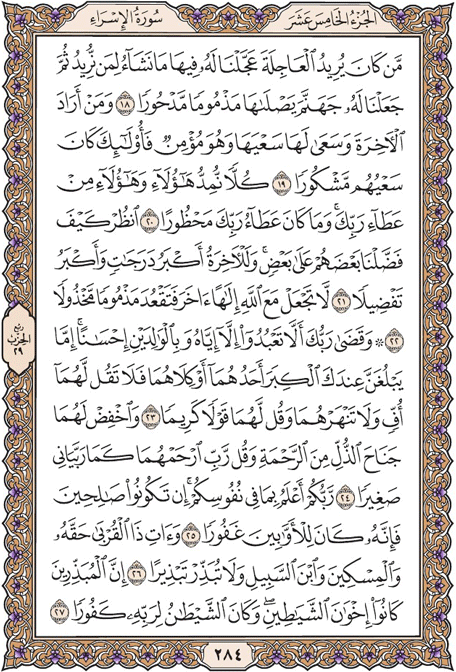 ---
Whoever should desire the immediate - We hasten for him from it what We will to whom We intend. Then We have made for him Hell, which he will [enter to] burn, censured and banished.
But whoever desires the Hereafter and exerts the effort due to it while he is a believer - it is those whose effort is ever appreciated [by Allah ].
To each [category] We extend - to these and to those - from the gift of your Lord. And never has the gift of your Lord been restricted.
Look how We have favored [in provision] some of them over others. But the Hereafter is greater in degrees [of difference] and greater in distinction.
Do not make [as equal] with Allah another deity and [thereby] become censured and forsaken.
And your Lord has decreed that you not worship except Him, and to parents, good treatment. Whether one or both of them reach old age [while] with you, say not to them [so much as], |uff,| and do not repel them but speak to them a noble word.
And lower to them the wing of humility out of mercy and say, |My Lord, have mercy upon them as they brought me up [when I was] small.
Your Lord is most knowing of what is within yourselves. If you should be righteous [in intention] - then indeed He is ever, to the often returning [to Him], Forgiving.
And give the relative his right, and [also] the poor and the traveler, and do not spend wastefully.
Indeed, the wasteful are brothers of the devils, and ever has Satan been to his Lord ungrateful.