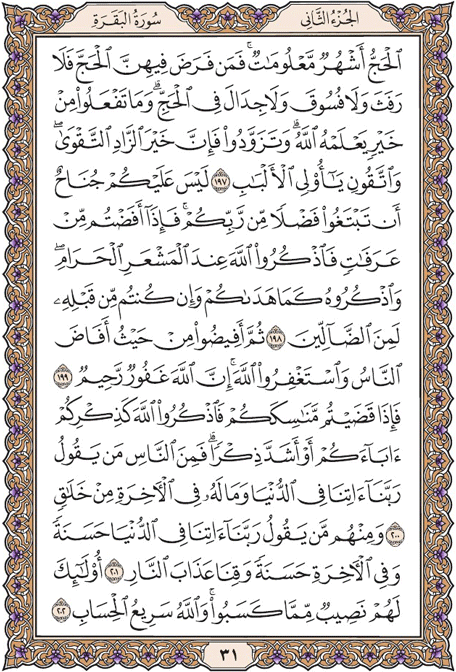 ---
îajj is [during] well-known months, so whoever has made úajj obligatory upon himself therein [by entering the state of iúram], there is [to be for him] no sexual relations and no disobedience and no disputing during úajj. And whatever good you do - Allah knows it. And take provisions, but indeed, the best provision is fear of Allah . And fear Me, O you of understanding.
There is no blame upon you for seeking bounty from your Lord [during úajj]. But when you depart from 'Arafat, remember Allah at al- Mash'ar al-îaram. And remember Him, as He has guided you, for indeed, you were before that among those astray.
Then depart from the place from where [all] the people depart and ask forgiveness of Allah . Indeed, Allah is Forgiving and Merciful.
And when you have completed your rites, remember Allah like your [previous] remembrance of your fathers or with [much] greater remembrance. And among the people is he who says, |Our Lord, give us in this world,| and he will have in the Hereafter no share.
But among them is he who says, |Our Lord, give us in this world [that which is] good and in the Hereafter [that which is] good and protect us from the punishment of the Fire.
Those will have a share of what they have earned, and Allah is swift in account.