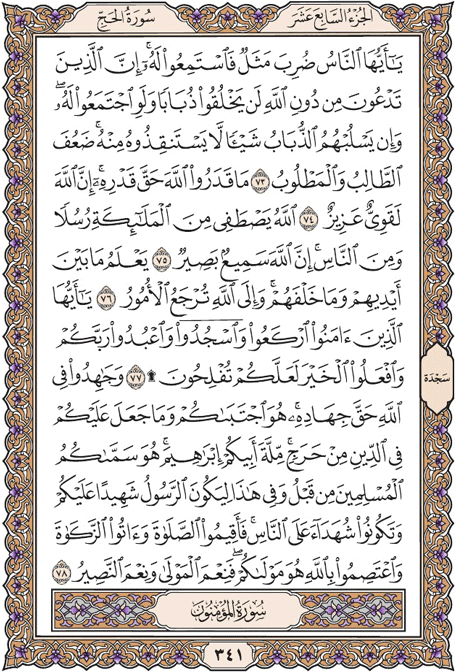 ---
O people, an example is presented, so listen to it. Indeed, those you invoke besides Allah will never create [as much as] a fly, even if they gathered together for that purpose. And if the fly should steal away from them a [tiny] thing, they could not recover it from him. Weak are the pursuer and pursued.
They have not appraised Allah with true appraisal. Indeed, Allah is Powerful and Exalted in Might.
Allah chooses from the angels messengers and from the people. Indeed, Allah is Hearing and Seeing.
He knows what is [presently] before them and what will be after them. And to Allah will be returned [all] matters.
O you who have believed, bow and prostrate and worship your Lord and do good - that you may succeed.
And strive for Allah with the striving due to Him. He has chosen you and has not placed upon you in the religion any difficulty. [It is] the religion of your father, Abraham. Allah named you |Muslims| before [in former scriptures] and in this [revelation] that the Messenger may be a witness over you and you may be witnesses over the people. So establish prayer and give zakah and hold fast to Allah . He is your protector; and excellent is the protector, and excellent is the helper.