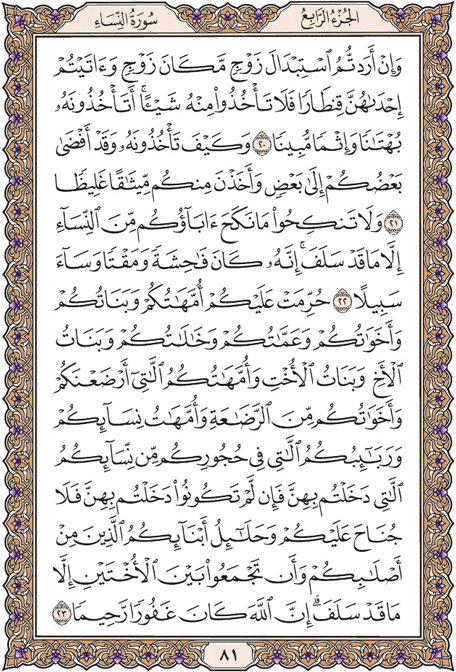 ---
But if you want to replace one wife with another and you have given one of them a great amount [in gifts], do not take [back] from it anything. Would you take it in injustice and manifest sin?
And how could you take it while you have gone in unto each other and they have taken from you a solemn covenant?
And do not marry those [women] whom your fathers married, except what has already occurred. Indeed, it was an immorality and hateful [to Allah ] and was evil as a way.
Prohibited to you [for marriage] are your mothers, your daughters, your sisters, your father's sisters, your mother's sisters, your brother's daughters, your sister's daughters, your [milk] mothers who nursed you, your sisters through nursing, your wives' mothers, and your step-daughters under your guardianship [born] of your wives unto whom you have gone in. But if you have not gone in unto them, there is no sin upon you. And [also prohibited are] the wives of your sons who are from your [own] loins, and that you take [in marriage] two sisters simultaneously, except for what has already occurred. Indeed, Allah is ever Forgiving and Merciful.