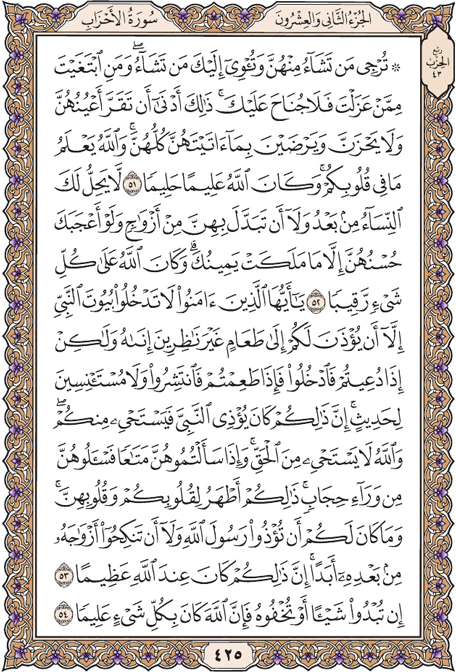 ---
You, [O Muúammad], may put aside whom you will of them or take to yourself whom you will. And any that you desire of those [wives] from whom you had [temporarily] separated - there is no blame upon you [in returning her]. That is more suitable that they should be content and not grieve and that they should be satisfied with what you have given them - all of them. And Allah knows what is in your hearts. And ever is Allah Knowing and Forbearing.
Not lawful to you, [O Muúammad], are [any additional] women after [this], nor [is it] for you to exchange them for [other] wives, even if their beauty were to please you, except what your right hand possesses. And ever is Allah , over all things, an Observer.
O you who have believed, do not enter the houses of the Prophet except when you are permitted for a meal, without awaiting its readiness. But when you are invited, then enter; and when you have eaten, disperse without seeking to remain for conversation. Indeed, that [behavior] was troubling the Prophet, and he is shy of [dismissing] you. But Allah is not shy of the truth. And when you ask [his wives] for something, ask them from behind a partition. That is purer for your hearts and their hearts. And it is not [conceivable or lawful] for you to harm the Messenger of Allah or to marry his wives after him, ever. Indeed, that would be in the sight of Allah an enormity.
Whether you reveal a thing or conceal it, indeed Allah is ever, of all things, Knowing.